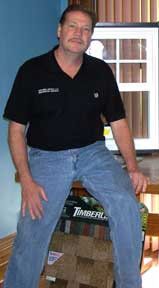 John Acker, owner of CAM Real Estate Development LLC was a nominee for the Rochester Business Alliance "Business Person of the Year" in 2012.

CAM Real Estate Development LLC: 30 Years of General Contracting in Rochester, NY
John Acker, owner and operator of CAM Real Estate Development, LLC, and a life-long Rochestarian, has been providing Rochester and its surrounding communities with outstanding general contracting services for more than 25 years. From residential remodeling and renovations, to kitchens and baths, handicap accesible remodeling and construction, windows, porches, decks, basements, additions, and siding, John is highly experienced in all aspects of general contracting and very well respected within the industry and the community as well. He works with several community organizations and businesses.

John Acker: Small Business Owner
With a lengthy history as a small business owner, in addition to his current business, John Acker was the previous owner of an auto shop and Acker's Deli, a favorite neighborhood establishment, that was located in Rochester's 10th Ward. He is very fond of the community in which he lives and works.

CAM Development LLC: Experienced and Professional Staff
Our clients can look forward to high quality craftsmanship from an experienced professional, dedicated and friendly staff. Excellent customer service is a top priority before, during and after the sale.

Grants and Low Interest Loans
If you live within the City of Rochester, John Acker can refer you to organizations that can assist you with possible grants and low interest loans.
*Loan and grant programs are generally based on availability of funds, income and credit scores. Low interest loans and grant programs and/or eligibility for these programs are not granted or determined by CAM Real Estate Development LLC.

CAM is EPA Lead Certified and Fully Insured
Open Monday through Friday from 8:00am to 5:00pm, John Acker and his full time staff as well as an office manager are available should customers have any questions or concerns. In addition to his own staff he also uses area subcontractors. This residential General Contracting, Real Estate Investment and Property Management company is EPA Lead Certified, and fully insured, carrying both Liability and Workman's Compensation Insurance.

John Acker's Warranty
All work comes with a one year warranty with some materials having a longer warranty based on product line and manufacturer.

Loan Calculator
CAM Real Estate Development, LLC does not provide financing but if you are
considering a loan for services use the convenient loan calculator below to
estimate monthly payments.

| | |
| --- | --- |
| Amount of Loan: | |
| Annual Interest Rate (%): | |
| Term of Loan: | |
| Monthly Loan Payment: | |
CAM Real Estate Development, LLC Summer Home Maintenance With more than 25 years in the general contracting and property maintenance business John Acker, owner and operator of CAM Real Estate Development, LLC, has seen residential repairs that could have been less expensive or entirely avoided if the property owner had been aware of preventative measures that can be taken. Below is a partial home maintenance check list for summer.
Hire a professional for any of the following if you are unsure of your findings or cannot perform the task or repairs yourself.
Check your attic and ceilings for water damage
Have your chimney inspected and cleaned by a
certified chimney sweep
Check the seal of windows and doors
Clean and replace your heating and cooling unit filters
Have gutters and downspouts cleaned
by a professional
Repair any rot on woodwork
Check for settling, erosion or cracks in driveway
Clean window and door screens
Have roof surface flashing, eaves and soffits inspected and repaired by a professional if necessary
Clean siding with a powerwasher
Check for peeling exterior paint and repaint if needed